Quality
Quality is one of our core values in our deliverables. We have a series of committed processes which checks and validates every key parameter of the product like GSM ( Size & Thickness), Bursting strength, sealing and peeling, strength and provide shade cards for each product. before the final. QA approval
Bursting Strength
We measure every foil for its resistance to rupturing, defined as the hydrostatic pressure needed to burst while packing tablets or capsules under various temperatures.
GSM testing
We measure every foil for mass (or density) per Gram Square Metersquare GSM so as to ensure the foil thickness and density is exactly as per specifications of each product whether printed or plain.
Peel strength
Peel strength is the average load per unit width of foils required to separate and we measure to evaluate the bonding strength of an each foil before certifying its quality.
Seal Strength
Seal Strength is defined as the average force per unit width of seal required to separate progressively a flexible material from a rigid material or another flexible material, under the conditions of the test. We quantify the permanence of adhesion or seal ability of each foil to pull open a seam of a package so as to ensure that each foil we supply meets the sealing requirements completely.
Pinhole Testing
Pinholes are minuscule holes or porosity in the aluminum foil, Various causes for pinholes in the aluminum foil are slag in capture from the supplier, impurities in the ingots (Direct Casting) and coils (Continuous Casting), mill filter installation malfunction or impurities entering the mill, wrong combination or percentage of rolling oil additives, too high reductions, just to mention a few.
We use sophisticated light based inspection system designed for detection of even Micro-tears & Pin holes in formed Aluminum foils and the laminates after the cup formation of the Aluminium foil ALU ALU Blister packing machine.
Provide COA for each of the printed and plain foils as required by the GMP standards of all clients.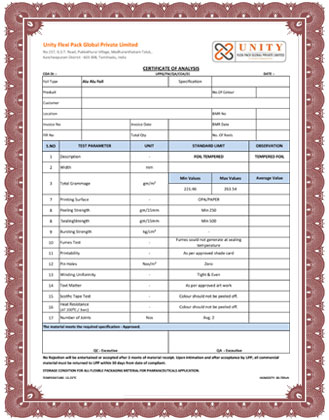 Alu Alu Foil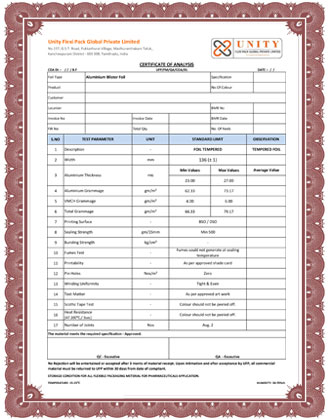 Blister Foil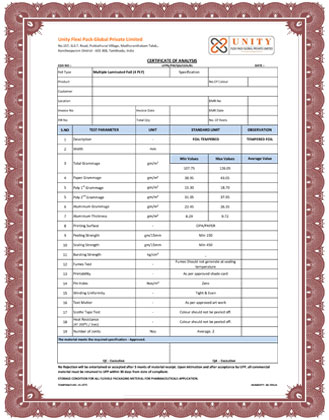 Multiple Laminated Foil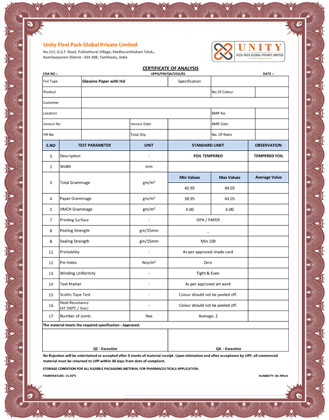 Glassine Paper
for more information call us at +91-9884615574